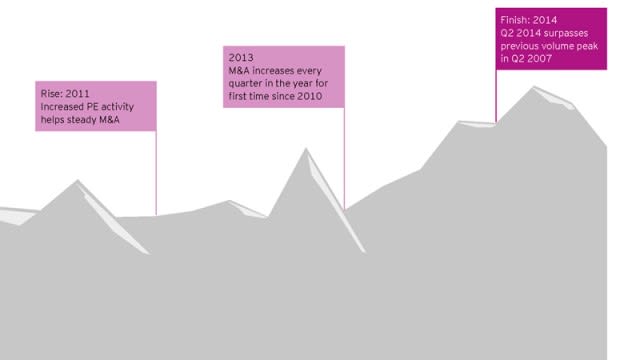 M&A in 2014 – a year in review
The M&A recovery has finally kicked into gear, bringing a watershed moment — 2014 was the first year to surpass 2007's M&A peak
The M&A recovery has finally kicked into gear, bringing a watershed moment — 2014 was the first year to surpass 2007's M&A peak.
The year just past was a bumper one for M&A. Just under 16,500 deals were announced in 2014, way above 2013's 14,559 and surpassing 2007's 16,061.While deal value did not enjoy the same return to pre-crisis levels, it still saw its strongest performance since 2007.
Pharma and tech lead the way
The increase in volume has been in part down to the emergence of key sectors.  The pharma, medical and biotech (PMB) claimed more than 20% of total deal value in Q4 2014. Indeed, 2014 saw 14 deals above US$5b in the PMB sector. Across all sectors, there were 95 deals in 2014 worth more than US$5b, compared with 53 in 2013.
Tech M&A also had a major uplift last year. Global technology groups such as Facebook have led the acquisition spree, buying nine companies in 2014 alone. This included its US$19b deal for instant messaging service WhatsApp. Overall, tech made up 12% of global M&A in 2014.
African M&A on the up
Recent emerging market slowdowns have seen corporates look to developed countries, but one continent that has shown strong growth recently is Africa. Inbound dealmaking in the region has increased at an annualized rate of 23% in the last two years, and reached over 100 inbound deals each year.
In emerging markets in Asia (excluding Japan, Australia and New Zealand) inbound dealmaking was at an annualized rate of just 6% over 2013 and 2014. And while inbound deals in this region outweighed Africa at a ratio of around four to one, the continued story of growth in Africa is proving a good sell to foreign corporate buyers.
To read the full story, visit capitalinsights.info